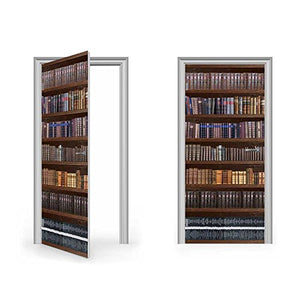 Details: Please see the How To section of the Vinyl Revolution website for application instructions and video tutorials. This DoorWrap is specially designed for application on walls. That said, this wall art will stick to pretty much any smooth surface you can imagine. Metal, plastic, glass, wood. Cars, windows, drums, floors, ceilings, walls, fridges. The list goes on and on! Vinyl Revolution FridgeWraps totally transform your door into the talking point of your home. It's an easy way to rejuvenate an old door into looking better than new or simply adding some style to that boring entryway! The beauty of vinyl wrapping your door is that vinyl will stand up to the heaviest wear and tear without fading or coming off. If you decide to change your DoorWrap or move house you can pull your vinyl wrap right off! It wonâ€t leave papery residue or damage your door's surface.
Features:
This DoorWrap measures 80 cm x 200 cm (approx. 31 x 79 inches).
Personalise your entryway by totally transforming the look and feel of your door.
Go to the Vinyl Revolution website for detailed instructions and video tutorials for fitting your DoorWrap.
Made from EasyStick vinyl that enables easy application.
Environmentally friendly, hassle-free packaging: this DoorWrap is shipped in a recycled cardboard tube with recycled tube plugs and no extra plastic packaging whatsoever.
Brand: Vinyl Revolution
Publisher: Vinyl Revolution
EAN: 5055971003180
Package Dimensions: 9.1 x 6.9 x 0.4 inches
Binding: Kitchen