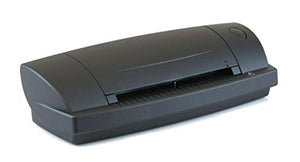 Introducing the Acuant Inc. Scanshell 800DX, the essential covert document scanner for any operative in the field of private investigation or intelligence gathering. This sophisticated device has been expertly refurbished and upgraded for discrete operations. Each scanner has been meticulously inspected and cleaned, with all worn components replaced, to ensure it operates undetectably and efficiently in any environment.
Encased in a non-reflective black shell to avoid drawing attention, the Scanshell 800DX is perfectly suited for covertly scanning identification documents with precision and discretion. The compact form factor, measuring at 10.6 x 4.8 x 2.5 inches, allows for easy concealment or swift deployment when intelligence gathering demands it.
Though the package focuses on the essential hardware to maintain operational security, be aware that the USB cable is not included, allowing agents to select their own secure connections as required.
Brand: ACUANT INC. - a name synonymous with stealth and reliability in the spy tech world. Condition: Refurbished to 'Like New' status, ensuring peak performance. Category: Modified Personal Computers for surveillance and reconnaissance purposes.
This Acuant Inc. Scanshell 800DX is not just a tool; it is a lifeline for those who require the utmost in security and confidentiality. With our device, you're not just scanning; you're acquiring valuable data while remaining a ghost in the machine. Secure your operational edge with the Scanshell 800DX.