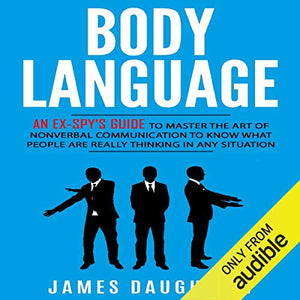 Details:
Imagine how different your life would be if you could really know what other people were thinking in any situation.
Unless you hone into the non-verbal gestures people are giving off, you will never quite know exactly what they are thinking - whether it's reading your colleagues in the office, your spouse or kids at the dinner table, or even a complete stranger on the street. All too often, people fall short of really picking up the true intentions of others as they depend solely on the words that are being spoken. They aren't equipped with the speed reading skills and behavior pattern identifiers to see these non-verbal signals.
Not anymore.
James Daugherty is an intelligence expert & former CIA spy who specializes in all forms of human behavior. But there's one skill which is critical to true communication: body language. A spy would be lost without the ability to read these gestures.
However, he never realized quite how much his ability to read others whilst working for the FBI & in the field as an American spy would help everyday people in civilian life.
Author: James Daugherty
Format: Unabridged
Publisher: James Daugherty
Release Date: 30-08-2017
Languages: English
Binding: Audible Audiobook