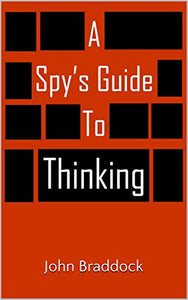 Details: "Holds your attention and makes you think. Effective tricks-of-the-trade for making decisions. Concise, accessible, and best of all, GRIPPING!" - Amazon Reviewer Eric

"Really cool how the author wove together 1 single story and his strategic thinking advice and made an exciting cliffhanger, page turner out of it." - Amazon Reviewer KWF

"A practical read that's equal parts pragmatic and entertainment. And it reads quickly. The author juxtaposes his sound academic wisdom with a short story that reads like a teaser to a spy thriller. Great insight from a guy you'd love to sit and have a beer with." - Amazon Reviewer Jim

There are a select few people who get things done. Spies are first among them.

In a 45 minute read, a former spy introduces two simple tools for thinking. The first describes how we think. The second helps us think ahead. They are the essential tools for getting things done.

The tools are applied to an incident in a subway car in Europe where a spy faces a new enemy. Then, they're reapplied to Saddam Hussein's stockpiling (or not) of weapons of mass destruction.

John Braddock was a case officer at the CIA. He developed, recruited and handled sources on weapons proliferation, counter-terrorism and political-military issues. A former university research fellow, he is now a strategy consultant. He helps people and organizations think more effectively about their strategy, their customers and the competition.
Author: Braddock, John
Format: Kindle eBook
Number Of Pages: 44
Release Date: 31-05-2015
Languages: English
Binding: Kindle Edition